The IPO that Swallowed Facebook | Douglas Rushkoff
See on Scoop.it – digital culture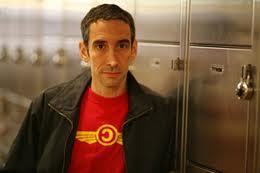 The Facebook IPO itself, for instance, is being conducted in the most traditional fashion possible, with underwriters establishing a price and offering shares through brokerage houses. Compare this to Google, who let the public establish the share price through open bidding, mirroring the company's revolutionary, bottom-up search algorithm, and challenging underwriters with net democracy.
The most radical thing Zuckerberg has done so far is attend investor meetings in a hoodie — as if to say, "in your face." Cute, but it hardly asserts innovation in the face of profiteering, or social networking in the face of the corporate capitalism.
By jumping headfirst into the stock market, Facebook may be joining a zero-sum shell game at just the wrong "risk off" moment. If Facebook does succeed in the stock market this week, then it will do so at the expense of Groupon, Apple and Google, whose net-fetishizing investors will likely be selling those shares in order to buy the new ones from Facebook. Worse, by joining in the speculative economy on Wall Street's terms, a company that might have changed business instead subjects itself to forces far beyond its control.
See on http://www.rushkoff.com