American digital public library promised for 2013 | Guardian
Via Scoop.it – digital culture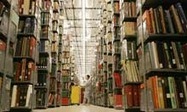 An American digital public library of over two million books will be in place by next April, according to scholar, author and Harvard University librarian Robert Darnton.
With funding from the Sloan Foundation and Arcadia Fund , the Digital Public Library of America counts on its steering committee, a mix of non-profit and foundation leaders, government officials and academic and public library directors.
The DPLA steering committee is currently wrestling with the issue of copyright – the same problem which Google ran into over its controversial plans to digitise millions of books for Google Book Search, eventually getting sued by authors and publishers for infringement.
The lessons to be learned from Google's "failed … attempt" are that it is possible to build a huge digital library, but that "such a library should be designed and run for the public good", said Darnton.