Santorum campaign says 'Google problem' has been solved | DailyCaller
Via Scoop.it – digital culture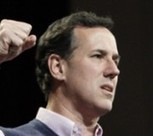 Until recently, the top result for users who typed Santorum's name in the search engine was a crude sexual term devised by gay columnist Dan Savage to attack Santorum.
Peter Pasi, a digital consultant to the Santorum campaign, said that they were finally able to overcome this problem as Santorum has risen in the presidential race.
Santorum's campaign website now ranks higher in Google.